Ooh, I spent the whole night yesterday watching Shitenhouji myu. Best
Tenimyu
musical so far, in my opinion. I laughed so much at the Shitenhouji team. ♥ Myu ramblings:
1. KANSAI-BEN EVERYWHERE! Well, Shitenhouji team is from Oosaka, soooo.
Even their song has Kansai-ben
! I read somewhere a long time ago that Kansai-ben sounds rude to most, but I like the sound of it.
2. There's actually a Sakuno! Suddenly we have a female character in Tenimyu! Played by a boy, much to the audience's amusement.
3. Momo and Kaidou's match. "MASAKA, HO
MO
?" *dies* The
mo
was mouthed, but the
ho
was very loud.
4. M-my love for Shiraishi. Oh no. Must keep it within control. Manga made me *_*, his seiyuu (from the Tenipuri 100 Song DVD) is kinda cute, and now an adorable actor... bad, very bad for my health. He matches Atobe in terms of sexiness. (I think he has a
Valentine Kiss
single too, right?)
5. YUUTA~ His
determined and emo Fuji
is v.v. good! A big change from the girly smiley Fuji from Imperial Presence myu. It's kinda strange because I thought Fuji is overly popular which was why I don't really care about him, but for somehow I ended up liking a Fuji actor.
6. And I don't know why, but I like it when they cry live. Makes me go awwww at Seigaku when they cried during
Oretachi no Aikotoba
. Dai-chan couldn't even sing his lines, and Teyu Kon (since he's Korean, I don't know if that's his full name or really his name...) had a hard time trying to sing his lines after that. ;w; Yuuta is the only one who didn't cry. So brave.
Read: I'm kinda disappointed, but oh well, chances of him crying in DL6th is higher
Shougo crying made me go ;w; too.
7. Oh, Shitenhouji cast is so so so very lovely and by that, I mean that they are totally gay for
Shiraishi
one another. (Suddenly I can see Shiraishi x Kenya!) I love Seigaku, but Shitenhouji's the sexier team, sorry to say. I can't describe Shitenhouji in one word. Crazy, ridiculous, gay, hilarious and of course, sexy. And so many left-handed players.
8. ...I didn't pay attention to the guests. *SHOT* I didn't know Oshitari Yuushi has a cousin in Shitenhouji! When I skimmed through the Shitenhouji arc in the manga, I was "Hahaha this Kenya guy has the same surname as Oshitari Yuushi!" but it never crossed my mind that they could be related. I started reading the arc from the chapter where they were selecting the players, so I missed the scene with the phone call between the cousins.
(
Collapse
)
Ok, I'll buy this DVD instead of I.P. Tokyo Final~ I want
Ecstasy
and
Boku wa Kawaru
solos in DL6th now. And please return your auto-copy function, Photobucket. All that copying and pasting is a pain.
Last but not least.
365 Toy Project #021


Yami~ Too bad much of the flash bounced off her, making her look as pale as a ghost.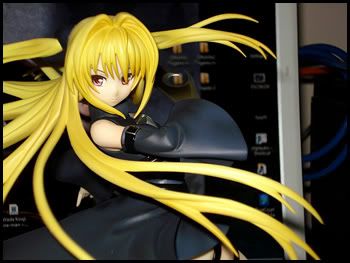 Variant, you can change her right hand for a scythe thingy.
My
Togainu no Chi
and
Hakuouki
books from Yes-Asia still haven't arrived. Back to twiddling my thumbs waiting for them or something...